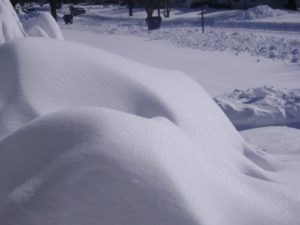 Any of you ever find yourselves snowed under? This was the sight that greeted me several years ago when I opened our door the day after a blizzard buried us in its immobilizing winter white. With temperatures below freezing and more snow on the way, our bushes and lawn didn't fully see the light of day for quite a while.
I have a feeling that some of you might be snowed under. Snowed under by things other than winter's icy calling card. Burdened by things longer-lasting or even more immobilizing than a foot or two of snow.
Some of you may feel weighed down by a burden of grief. I've certainly been there. Others may find yourselves buried under a pile of work or unpaid bills while some of you are bearing the weight of others as well as yourselves as you struggle to keep up with parenting or caregiving duties. And it might just be a combination of several things causing some of us to feel overwhelmed.
Are you feeling like you may never see the light of day? Be encouraged. Remember that we have One who wants to bear the weight of our burdens for us. We have One who says, "Come to me, all you who are weary and burdened, and I will give you rest." (Matthew 11:28 NIV)
So turn to him. Tell him you're snowed under and ask for his help. Then relax in his arms and be at peace, my friend. Be at peace.
"Do not be anxious about anything, but in every situation, by prayer and petition, with thanksgiving, present your requests to God. And the peace of God, which transcends all understanding, will guard your hearts and your minds in Christ Jesus." Philippians 4:6-7 NIV
*What burdens you most in this season of your life?
*Hope this slightly revised post from February 2011 blesses you today!
*The new issue of Life Notes, my quarterly inspirational newsletter with a giveaway in every regularly scheduled issue, came out Feb. 1st. It's not too late to receive it. Sign-up is free and to the right! (If you're on a mobile device, scroll to the bottom of the screen and click View Full Site to find it.)
*For info about my book Mother of the Bride and also my Wedding Inspiration cards, check out my Books/My Work page.
*My photo