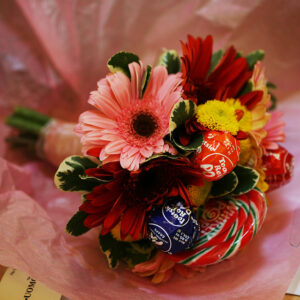 If your daughter is striving to incorporate fun touches into her wedding, Mother of the Bride, here's an idea she might want to consider—candy in the bridesmaids' bouquets!
I've got to admit that I never would have thought of accenting a bouquet with candy, but why not? After the flowers wilt and need to be tossed, your daughter's maids will still have a sweet treat to enjoy!
If you think your daughter would go for this idea, MOB, why not brainstorm the possible candies that could be make her bridesmaids' bouquets sparkle with fun. Tootsie Roll Pops and lollipops are shown in the example above, but let your imaginations run wild. What colors and shapes would she like to use? Do she and the groom have some favorite candy they'd like to incorporate? Could the candy theme also be used in another facet of the wedding?
And just think, MOB, deciding on which candy to use might even call for some candy-tasting! That thought alone is enough to make you want to consider candy in the bouquets, huh?
*You might also like to read Bridal Bouquet Idea: Add Some Sparkle with Gemstones and Wedding Idea That Sparkles: A Brooch Bouquet!
*Flickr photo by momopeche (this shot by Steve Blomquist and Andrew Yap), Creative Commons License