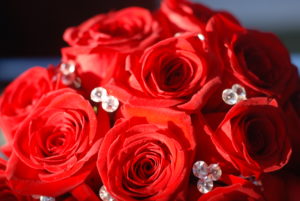 Mother of the Bride, when it's time for your daughter to select the flowers for her bridal bouquet, maybe she'd like to add some sparkle too—with jewelry! Never fear, though. I'm not referring to genuine gemstones. Imitations will work quite nicely.
Bouquet jewelry, like the rhinestones or clear crystals in the red rose bouquet above, provide not only sparkle but also contrasting color, much like baby's breath or another white accent flower. And bouquet jewelry will do those things less expensively. That's right, you'll save money!
Possibilities abound where bouquet jewelry is concerned. Bouquet jewelry can also be added to the stem wrap as shown on the ribbon in the photo below. Bigger items like brooches can be used as well on the wraps or in the bouquets themselves. One dazzling rhinestone butterfly or brooch can transform a bouquet from pretty to gorgeous in seconds. And a variety of imitation gemstones and pearls lay at the disposal of your floral arranger.
How about it, MOB? Try suggesting bouquet jewelry to your daughter. After all, what girl doesn't love jewelry?
*Check out Afloral.com for ideas and prices. And if you're interested in another way to save on the bouquets, you might also like to read Savings Tip for Bridal and Bridesmaids Bouquets. 
*For info about my book Mother of the Bride check out my Books/My Work page.
*The next issue of Life Notes, my quarterly inspirational newsletter with a giveaway in every regularly scheduled issue, will come out in early August. Sign-up is FREE and to the right! (If you're on a mobile device, scroll to the bottom of the screen and click View Full Site to find it.)
*Photos by Elece Hollis.