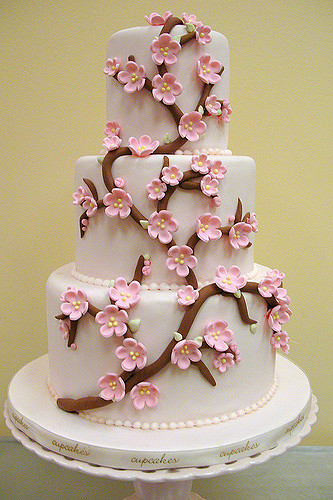 Mother of the Bride, is a spring wedding in the works at your house? If so, the wedding may be coming up within the next couple of months or perhaps you're in the very beginning stages of wedding planning with the date set sometime for next spring. Whatever the case, I'm sure spring colors and spring ideas are springing to mind right and left. (Sorry, I couldn't resist the pun!)
If one of your daughter's colors is pink, today's spring wedding cake idea—cherry blossoms—might be something she'd love to include in her big day. Nothing says spring like cherry blossoms, right? Delicate and beautiful. Pastel perfection.
The photo above is just one example of how cherry blossoms might be incorporated into a wedding cake. You might want to look for other examples, too, and then show them all to your daughter at the same time. She'll appreciate having several options to consider.
MOB, I hope this is an idea that will work for your sweet girl. If so, time to find your baker and arrange for a tasting. That's when things really get fun!
*You might also like to read Wedding Cake Roundup. 
*For info about my book Mother of the Bride check out my Books/My Work page.
*The new issue of Life Notes, my quarterly inspirational newsletter with a giveaway in every regularly scheduled issue, came out in early February. It's not too late to receive it. Sign-up is free and to the right! (If you're on a mobile device, scroll to the bottom of the screen and click View Full Site to find it.)