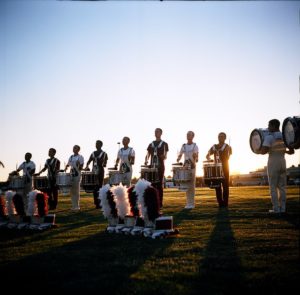 I don't know what fall sounds like in your corner of the world, but fall means music in the air to me. And I mean that literally.
Since we live just a few blocks from our local high school, the marching band has jazzed up my fall mornings for years with its lively, high-stepping melodies. They're carried to me loud and clear by the autumn breezes.
The staccato beat of drumsticks readies the band for action. The syncopated rhythmic boom, boom, boom of the bass drum provides the cadence the whole band needs as they march in unison. The blare of the horns energizes the very air around me, and their crisp cut-offs add the perfect punctuation to a fall morning's melody.
Even though this year is slightly different because of COVID, in years past the band has busily prepared to perform at football games and march in area parades. As they've done that, I've gotten to enjoy a sound that transports me back in time not only to my high school and college days but also to childhood memories of going to homecoming parades with my parents and grandparents. Larger-than-life days, for sure. The band helps me taste them again.
What does fall sound like to you? Maybe a fire crackling in the fireplace or a flock of geese honking high overhead as they fly south for the winter? It might be leaves skittering across the driveway or crunching underfoot, or it might even be the sound of someone splitting wood nearby. Whatever it is, I'm sure it's music in the air to you.
Let's thank God today not only for the beauty of the autumn season, but also for giving us ears to hear the glorious sounds of fall. Truly music in the air!
"'But blessed are your eyes because they see, and your ears because they hear.'" Matthew 13:16 NIV
*What are your favorite sounds of fall?
*The next issue of Life Notes, my quarterly inspirational newsletter, comes out in early November. One lucky subscriber (new or current) will receive a $15 gift card to Starbucks and a signed copy of my book to use personally, give as a gift, or donate to a library. Sign-up is free and to the right! (If you're on a mobile device, scroll to the bottom of the screen and click View Full Site to find it.) p.s. If you sign up after Oct. 30th, you will be included in all future Life Notes giveaways but not in this current giveaway.
*For info about my book Mother of the Bride check out my Books/My Work page.