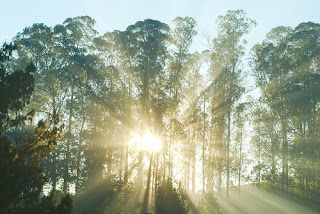 "But may they who love [God] be like the sun when it rises in its strength." Judges 5:31b
Sunshine is good medicine, isn't it? After the cooler than normal spring we've had this year and the welcome rains that have accompanied many of those days, it sure feels good when a new day dawns with more than welcome sunshine. You know the kind of day I'm talking about. A day when the sun "rises in its strength"—like in the verse above.
After a few cool and dreary days, sunshine has a way of lifting our spirits and soothing our bodies and souls with its delicious warmth and brilliant light. Sunny days spark hope and joy in us.
What's even better is that as believers and lovers of God, we can have the same effect on others. We can be good medicine, too. As God's light and warmth shines through us, we can lift spirits and spark hope and joy in those we meet.
So how about it? Let's be like the sun when it rises in its strength. Let's bring that more than welcome sunshine into the lives of others!
"that is, that you and I may be mutually encouraged by each other's faith."  Romans 1:12
*Who has brought a ray of sunshine into your life recently?
*Flickr photo by aloshbennett
*Don't miss out on the I Love Chocolate Giveaway 2! Also, Life Notes, my quarterly inspirational newsletter, came out today. It's not too late to receive. Sign up is free and to the right!
*I'd love it if you'd come over and "like" my new Cheryl Barker, Writer page on Facebook. I plan to post things that readers will be interested in (book recommendations, free on Kindle links, book giveaway links, etc.) along with any writing news I may have. Hope you'll come join me!