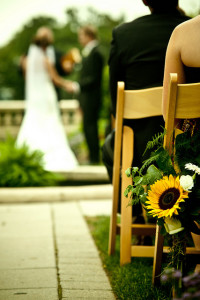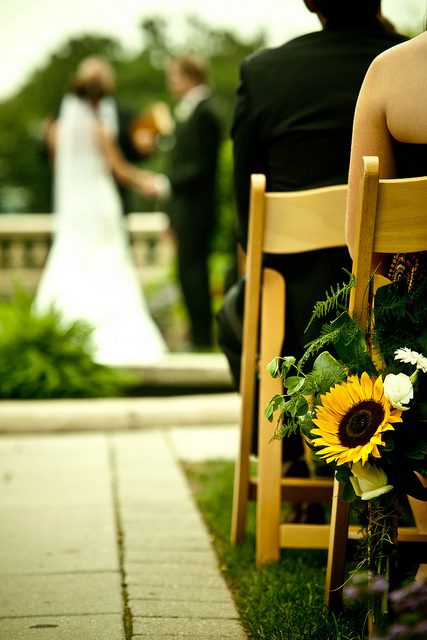 Mother of the Bride, believe it or not, it's not too early to be thinking about pew or chair décor for summer weddings. Since you and your summer bride probably spent your early months of wedding planning nailing down vendors and shopping for bridal gowns and bridesmaids dresses, now you can start giving attention to smaller decisions like décor.
Sunflowers make a perfect choice as pew or chair décor for summer weddings, especially if your daughter also wants to incorporate some in her bouquet or in the bridesmaids' bouquets. Attaching one big sunflower to the chairs or pews along with some greenery as shown in the photo above will add cheer and beauty at the same time. Sunflowers just have a way of brightening up any space, don't they?
You can also add another accent color with a daisy or two in the pew décor if you'd like. Several color choices could work. You could go with one of your daughter's other wedding colors or simply go with white to tie in to her gown or the other white bridal décor that is sure to be a part of your sweet girl's overall decorating plans.
Why not find out, MOB, if sunflowers will get a yes from your bride-to-be? After all, a touch of sunflower sunshine might just be the final piece to her wedding-day decorating puzzle!
*You might also like to read Wedding Décor Tip: Adorn the Church with Pew Bows and Wedding Décor Beauty: Candlelight Works.
*The next issue of Life Notes, my quarterly inspirational newsletter, will come out this week. Sign-up is free and to the right!
*Be sure to enter the Steaming Hot Valentine's Day Giveaway over on my home page! Deadline to enter is 6 p.m. Feb. 11.
*Flickr photo by charamelody, Creative Commons License