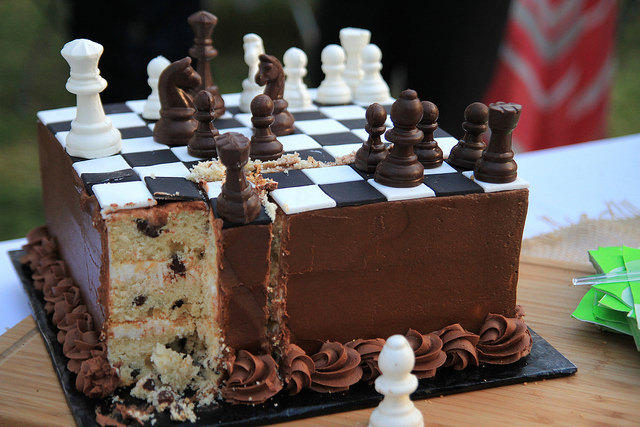 Mother of the Bride, even though the main wedding cake is pretty much the star of the reception, the groom's cake can come in a close second. Just tell your future son-in-law to get creative and come up with his dream groom's cake idea, and you'll find a baker who can pull it off when it comes time to find the cake designer/baker for the wedding.
One idea that might fit his personality is a chessboard. Doesn't the chessboard groom's cake above look sharp? Even the chess pieces can be part of the allure. The pieces here are made of white and dark chocolate. Now that's the kind of chess game I'd like to play!
If your daughter's honey is not a chess player, maybe he likes to play cards or checkers or some other board game. Maybe video games are his thing. If so, a good designer can come up with a cake inspired by just about any kind of game.
MOB, share this idea with the groom-to-be and see if it strikes a gaming-chord with him or perhaps inspires another idea. Encourage him to make his groom's cake choice fun—and if he wants chocolate to play a part, you won't complain, will you?!
*You might also like to read Groom's Cake Idea: Law Books (or any other books!), Groom's Cake Idea for the Wrestling Fan, Groom's Cake Toppers for the Hunter, Groom's Cake Idea: His Favorite Set of Wheels, and Groom's Cake Idea: Alma Mater Pride.
*Flickr photo by jessica.hanrahan, Creative Commons License