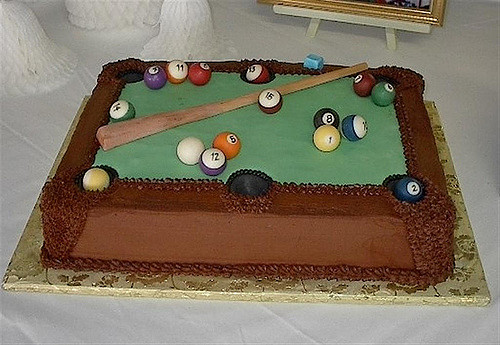 Mother of the Bride, cake decisions are among the most fun that await your daughter and her beloved as they plan their wedding. And the groom's cake decisions are especially fun since the groom gets to let loose and let his personality shine if he so chooses. He may know exactly what he wants or he might ask for ideas. Be prepared for either, MOB.
One way to go is to feature one of the hobbies or special skills of your soon-to-be son-in-law. This can be anything from his favorite sports team to his favorite recreational activity to his career expertise. All ideas are fair game—with the bride's approval, of course :)

The idea I'm featuring today is for the groom who likes to play pool. He and your sweet girl may not have room for a pool table in their first home together, but he can sure have a pool table groom's cake if he wants. To make it even more fun, part of his bachelor party could include shooting some pool. Just mention it to the best man or one of the groomsmen and they might surprise the man of the hour with a pool tournament the night before the big day.
This is just one option, MOB. Share it with your sweet couple and let their ideas take off from there!
*You might also like to read Groom's Cake Idea for the Wrestling Fan, Groom's Cake Idea: A Chessboard!, Groom's Cake Idea: Law Books (or any other books!), and Groom's Cake Idea for the Military Man.
*The new issue of Life Notes, my quarterly inspirational newsletter, comes out in early February. One lucky subscriber (new or current) will receive a Starbucks gift card and a signed copy of my book to use personally, give as a gift, or donate to a library. Sign-up is free and to the right!
*Flickr photo by mandotts, Creative Commons License