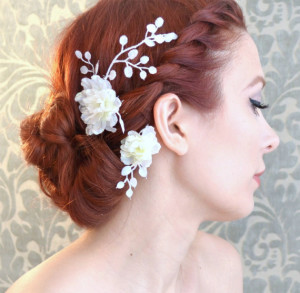 Mother of the Bride, is your bride-to-be daughter considering not wearing a veil for her big day? For many in our generation, a veil seems like a must, but lots of young women today would rather forgo the veil in favor of a smaller hair accessory.
If your daughter is among those who want to skip the veil, share this option with her—floral bridal combs or hairpins. If you or your daughter are crafty, this is an accessory you can make yourselves, but you can also find beautiful options in retail stores as well as online shops like Etsy.
Floral bridal combs or hairpins can be as elaborate or as simple as the bride desires. You might be able to find or make some that match an aspect of the bridal gown, or you can go a different direction by featuring the colors of the bridal bouquet or even the bridesmaids dresses and bouquets.
Run this idea past your resident bridal veil rebel, MOB, and see if a floral hair accessory is something she would like. It just might be the perfect fit for her!
*You might find some other ideas on my Bridal Hairstyles Pinterest board or on my Bridal Accessories Pinterest board.
*Flickr photo by Bellafaye Garden, Creative Commons License