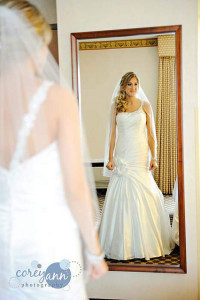 Mother of the Bride, I imagine your daughter and her beloved have already secured their wedding ceremony location since that's one of the first things that needs to be done before proceeding with other wedding planning. But chances are they didn't think too much about the bridal dressing room when they made their choice. After all, other factors are indeed more important when selecting a ceremony venue.
But now that the venue has been selected, be sure to tour it at some point with your daughter. Not only will you want to see the area to help plan décor, but be sure to view the rooms the wedding party will use to get ready in and then await the big moment.
In addition to wanting a bridal dressing room large enough to accommodate the bride and all her bridesmaids, another must is a full-length mirror. The bride and her maids will want to check their appearance before walking down the aisle, and they will want a full-length view. They'll want to make sure they look perfect, plus they'll want to savor their beautiful appearance for a minute and tuck it away in their memories. The bride especially needs the opportunity to do this. The groom and his guys will need a mirror as well but it won't be quite as important to them :)
So, MOB, if a full-length mirror is not already part of the bridal dressing room, add that to your to-do list. Arrange for one and make sure your baby girl gets the view of a lifetime on her special day!
*You might also like to read Preparing to Decorate: Reception Venue Visit.

*The new issue of Life Notes, my quarterly inspirational newsletter, came out May 1. It's not too late to receive it. Sign up is free and to the right!
*Don't miss out on the Splurge A Little Giveaway over on my home page. Deadline to enter is 6 p.m. (CST) Wednesday!
*Flickr photo by Corey Ann, Creative Commons License