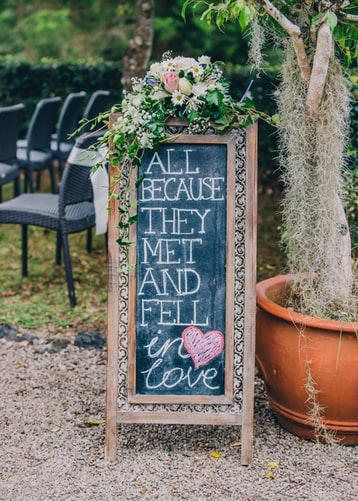 Mother of the Bride, are you and your darling daughter up to your elbows in decorating ideas yet? If not, I'm sure you soon will be—and if so, I've got an idea for you today that can be easily added at any stage of planning.
Chalkboard signs are nothing new in the world of wedding décor, but they are still an adorable option for almost any wedding. Not only can they offer information to guests but they can also be used to help set the mood for the wedding or reception. 
Just think about how versatile chalkboard signs can be. They can feature loving messages like the photo above or provide direction for the guests as in the photo below. Or you might want to feature some of these ideas: a welcome sign in the entry area, special instruction for the guest book, an unplugged wedding sign, a timeline for the festivities, a cute sign for the ring bearer, the couple's relationship timeline, directions to a photo booth, an Instagram hashtag to use for photos, or a thank-you sign at the gift table. And these are just a few ideas to get you started!
Other good reasons to use chalkboard signs is that most are very affordable—plus they can be repurposed after the wedding is over.True, some of the larger or more decorative ones can be more expensive, but many are very easy on the budget. Take a look at some of these places where you can purchase them to get an idea of prices:
Hope these ideas help, MOB. Now go have fun sign-planning with your girl!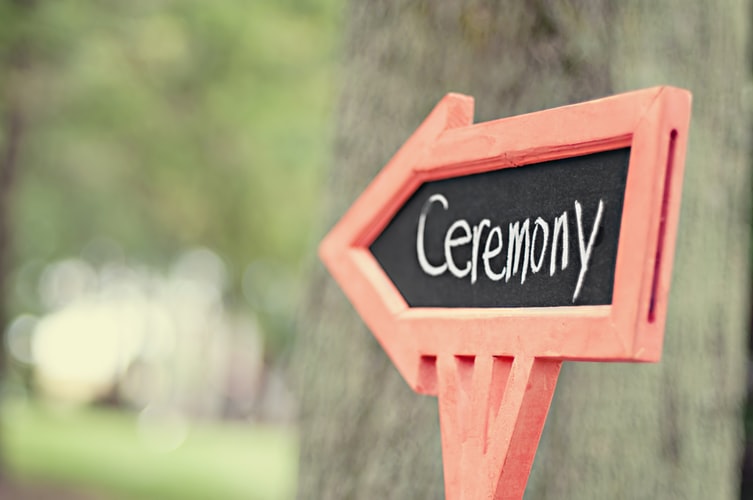 *You might also like to read Just Married Sign and Photo Idea and Flower Girl and Ring Bearer Serve as Sign-Bearer.
*For info about my book Mother of the Bride check out my Books/My Work page.
*The next issue of Life Notes, my quarterly inspirational newsletter, comes out in early November. One lucky subscriber (new or current) will receive a $15 gift card to Starbucks and a signed copy of my book to use personally, give as a gift, or donate to a library. Sign-up is free and to the right! (If you're on a mobile device, scroll to the bottom of the screen and click View Full Site to find it.)
Top photo by Sooz . on Unsplash; bottom photo by Scott Webb on Unsplash