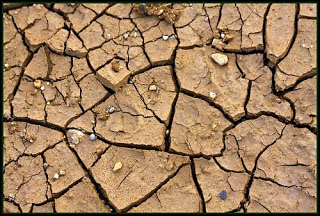 I've been experiencing a dry spell recently in my writing life, and no, I don't mean writer's block. I'm talking rejection and lots of it. The last acceptance I received came in October of last year—and then the editor chose not to run the piece after all.
Oh, I had pieces appear in various publications in October, November, and December and even had my work used on a 2011 Blue Mountain Arts Easter card, but those acceptances came long ago. So even though I celebrated each of those as they came out, I knew that no new acceptances meant it would be a long time before my work hit the printed page again.
Over the past few months of "no thank you" replies, I have had semi-good news from Blue Mountain Arts. They continue to choose to market review most of the pieces I send them. Getting selected for the market review is the first step toward publication with them, but even then, the chances are slim that they'll go on to purchase the piece. It's not an acceptance but rather a foot in the door. And I might add, I'll take every one of those I can get! :)
So how do I handle the dry spells of a writer's life? Other than saying, "Well, darn…" after each rejection, I just pull myself up by my writer bootstraps and keep writing and submitting and asking God to allow my work to be used.
It all comes down to trusting the Lord and his timing and firmly believing that all of it—dry spells included—is in his hands. I have a yellow sticky note posted at the base of my computer monitor that reads, "Wait for the Lord; Be strong and take heart and wait for the Lord." (Psalm 27:14)

So while I write and submit and pray, I also wait. The dry spell will one day end. Acceptance will come again—or maybe some other form of encouragement. My Father will send refreshment—to me and to all who keep looking to Him when desert times come. And then? Then "our mouths [will be] filled with laughter" (Psalm 126:2a). We might as well praise him now!
"I will turn the desert into pools of water, and the parched ground into springs." Isaiah 41:18b
*Flickr photo by the photographymuse, Creative Commons License