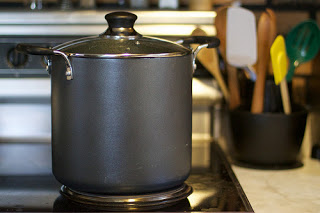 After giving new folks ample time to sign up for my newsletter and get in on the drawing, today's the day to announce the Life Notes Subscriber Appreciation Giveaway winner. I used RANDOM.ORG to select the winner, and that lucky Life Notes subscriber is Sharon G.! Congratulations, Sharon, and thanks for being a subscriber! I'll send the $25 Barnes & Noble gift card to you as soon as you send me your snail mail address.
I wish I could send each of you subscribers a gift card — I appreciate you all so much! But since I can't do that, how about another gift to show my appreciation? How about a favorite family recipe for the cool-weather months?
That's right! Soup's on today for any of you who are interested! Any potato soup fans out there? Below is a recipe I got from my friend Kristi when I was just a newlywed. Everyone in our family loves it, and I hope you will, too.
Do you have a favorite soup recipe? Please share it with us in the comments. On behalf of everyone, I'll thank you in advance! :)
Potato Chowder
4 strips bacon
2/3 c. chopped onion
4 c. diced raw potatoes
1 c. sliced carrots
4 c. boiling water
2 1/2 t. salt
1/2 t. sage leaves
1/4 t. pepper
1/2 t. paprika
2 t. dried parsley flakes
4 Tbsp. flour
4 c. milk
Fry bacon in pot large enough for soup. Remove bacon, add onions, and saute until limp.
Add potatoes, carrots, water, and salt. Cover and cook till vegetables are tender. Add seasonings.
Blend flour with 1/2 c. of milk then add with the remaining milk to the mixture in the pot, stirring constantly. Heat till slightly thickened.
Crumble bacon & sprinkle over soup. Serves 8-10. Even better reheated!
I hope you enjoy this little recipe-gift of appreciation. Everyone stay warm in the cold days ahead!

"Every good and perfect gift is from above, coming down from the Father of the heavenly lights . . ." James 1:17a

*Flickr photo by cogdogblog
*Still not too late to get the latest issue of Life Notes. Sign up is free and to the right!