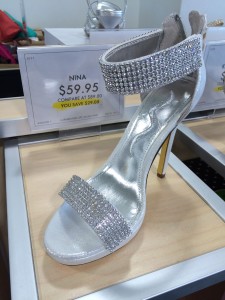 Mother of the Bride, when it's time for you and your daughter to shop for her bridal shoes, she may let you know that she wants something other than a traditional white heel. Many brides like to add a touch of color or sparkle or some other unique twist to their wedding day apparel, and their choice of shoes offer the perfect opportunity.
Your little-girl-turned-bride may be among those who want their bridal shoes to sparkle. And that's not surprising since a sparkly shoe will look both elegant and fun with almost any wedding gown. The Nina "Carmen" heel above found at DSW is just one example. Have your daughter glance through these sparkly bridal shoes on Pinterest for some more ideas.
MOB, it's fun to live during a fashion time when bridal shoes can be anything from an elegant white heel to a lacy bootie to a bold splash of color to a hand-painted work of art or even a cowboy boot. Have fun considering all the options with your daughter and then kick up your heels as well when it's party time!
*You might also like to read Bridal Shoes: The Lacy Look, Bridal Shoes: The Cute Factor, Hand Painted Wedding Shoes for the Bride!, Rustic Wedding Bridal Shoes: Boots—What Else?, and Wedding Shoes Trend: Color Is In!

*The Life Notes Subscriber Appreciation Giveaway is underway. Details are in my Oct. 19 post on my home page and sign-up is to the right under "Free For You." Deadline is 6 p.m. Nov. 11. Don't miss out on the chance to win a $25 gift card to Barnes & Noble!
*My photo