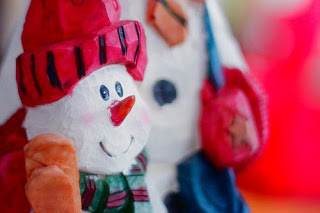 Let's have some Christmas fun today! Announcing a winner is always fun so let's start with that. The winner of The Spirit of Christmas (a Christmas book with one of my stories in it!) is Kristin! Congratulations, Kristin!! This sweet girl of mine started entering my blog giveaways back when I started blogging in 2007 and never had any luck winning one until this year. And now she has won two. Yippee for her! :)
Now for a little holiday fun. Christmas offers us a natural time to celebrate our favorites, whether traditions or treats. Let's see if we have any of the same favorites. I'll pose the questions and give my answers, and then you chime in by answering any or all with a comment. *Warning: Choosing favorites may prove to be next to impossible! :)
1. What's your favorite Christmas movie? I LOVE White Christmas, but I also love While You Were Sleeping (set during the Christmas season). My newest favorite is Christmas with the Kranks. I so identify with this one now that our girls live away from home.
2. What's your favorite Christmas dinner menu item? It's a toss up between my Mom's mashed potatoes and homemade noodles and the birthday cake I make for Jesus—our family's famous Fresh Orange Layer Cake.
3. Do you have a favorite Christmas book, story, or poem? I've gotta go with the greatest story ever told—the birth of Jesus as recorded in Luke chapter 2. Another favorite, for nostalgic reasons, is Clement Moore's classic poem "The Night Before Christmas".
4. How about a favorite Christmas candy? Fudge! The Kraft Marshmallow Creme label recipe. Yum!
5. What's your all-time favorite Christmas song? I love so many Christmas songs, but if I have to choose just one, I'll say "Silent Night". I'm a classics kind of gal :) I love all the fun Christmas songs, though, too. Love the sound tracks from the Home Alone movies.
6. When you're not eating your favorite Christmas candy, what's your favorite Christmas cookie? Mine is another family favorite—Christmas cut-out sugar cookies made from a recipe that a long-time family friend, Joyce Lee, gave my mom many years ago. It's called Mary's Sugar Cookies.
7. Do you have a favorite Christmas tree ornament? Another hard choice because of so many favorites. I have several Precious Moments porcelain tree ornaments, though, and my favorites among those are the first two I ever got (back when my girls were little). One is a ballerina that I bought because she reminds me of Kristin, and the one that reminds me of Kelli is a little girl in a nightgown and nightcap holding a strand of cutout hearts.
8. Not counting your main Christmas tree, what's your favorite Christmas decoration? Mine is a lighted porcelain church that I place on top of our piano. Love the way it glows and fills my heart with a spirit of worship.
9. What store/shop do you most love to visit during the holidays? I love to go to Williams-Sonoma and see all their nifty holiday items and also to get tastes of their cider and peppermint bark. Double yum! But I also like to go into Dillard's or Macy's and score a box of Harry & David Dark Chocolate Truffles from the holiday display :)
10. What's your favorite Christmas tradition? Our traditions have changed since our girls have grown up, and my favorite tradition now just centers around having them home (along with their hubbies) for a few days right before Christmas—just hanging out, eating, playing games, etc. Throughout the month, though, one of my best-loved traditions is watching our favorite Christmas movies. I also enjoy including an original Christmas poem in my Christmas cards each year. Have been doing that for nearly thirty years now. Does that make me old? :)
Your turn now. Share some of your Christmas favorites!
"There is a time for everything, and a season for every activity under heaven:" Ecclesiastes 3:1

*Flickr photo by wsilver