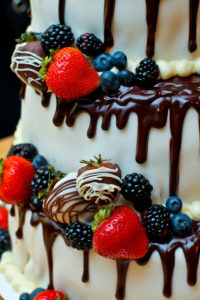 Mother of the Bride, is your daughter looking for a spring or summer wedding cake idea? If she's a fan of berries and chocolate, the cake idea I'm showing you today might be just strike her chocolate-berry-loving fancy!
Spring or summer is the perfect time to feature a cake garnished with fresh berries and accented with drips of chocolatey goodness. Strawberries, blueberries, and blackberries against a dreamy white-frosting background look so fresh and pretty, so perfectly seasonal. Add the chocolate dripping down each layer of the cake and my, oh my, what could be more perfect? Well, just one thing—add the chocolate-covered berries you see scattered throughout as a yum, yum, yummy finishing touch.
Of course, what's inside is anybody's guess, but that will be just one more fun decision for your sweet girl and her guy to make. Their cake-baker will be able to give lots of good ideas about flavors that would pair well with the berries. Ask to go along for the cake-testing, MOB!
Share this idea with your little bride-to-be and her groom, Mother of the Bride, and see if this might be the answer to their cake needs. After all, it's a healthy choice with all that fruit included, right?!
*You might also like to read Spring Wedding Cake: Cherry Blossoms, Wedding Cake Idea: A Crepe Cake!, and Wedding Cake Roundup.
*For info about my book Mother of the Bride check out my Books/My Work page.
*The next issue of Life Notes, my quarterly inspirational newsletter with a giveaway in every regularly scheduled issue, will come out in early August. Sign-up is FREE and to the right! (If you're on a mobile device, scroll to the bottom of the screen and click View Full Site to find it.)