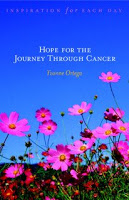 I've just returned from the writers conference (more on that later!) so thought I would post something I already had up my sleeve. I hope and pray this will come at just the right time for someone. Here is a book review I wrote for Hope for the Journey through Cancer by Yvonne Ortega:
"In 2001, I joined the ranks of more than one million people in the United States who were diagnosed with cancer that year. Their lives would never be the same. Neither would mine," says author Yvonne Ortega in Hope for the Journey through Cancer – Inspiration for Each Day, a sixty-day devotional designed to help cancer patients and their loved ones "look for hope in the midst of cancer."
Based on her own personal experience with the disease, Ortega builds encouraging devotions around specific events and emotions she encountered along the way. Her easy-to-read style and soothing tone, combined with each day's brief selection and scripture, make this devotional a breath of fresh air for those who long for a touch of comfort and hope but may not feel well enough to read for more than a few minutes.
Ortega is an award winning writer and a full time certified domestic violence and abuse counselor. But more importantly, she is a cancer survivor. She intimately knows the battles cancer patients must fight as well as the desperately needed joys that pop up at unexpected moments. Her prayer is that "God will wrap His arms of love around [her readers] and give them hope" and that they "will get to know the Lord in a deeper, richer way."
Any individual or family faced with a diagnosis of cancer would most certainly be blessed by reading Yvonne Ortega's refreshing devotional (published by Revell and available here). To learn more about Yvonne, check out her website  and her God tube video.
"But as for me, I will always have hope…" Psalm 71:14