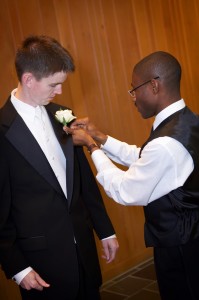 Mother of the Bride, do you have someone lined up to pin the corsages and boutonnieres for everyone on wedding day? If this is one thing that hadn't occurred to you yet, go ahead and add it to your list of things to do. And while you're at it, you might want to arrange for a back-up.
Your florist may offer to pin the flowers for you, but if so, be sure to have a Plan B in place. When our daughter Kristin and our son-in-law-to-be Shawn got married, the florist told us he'd take care of it for us, but when we arrived at the church, he'd already been there, dropped all the flowers off, and left. Thank goodness, one of Shawn's groomsmen had experience with event planning. Hamilton stepped up and saved the day.
If you have a wedding coordinator, he or she will, of course, take care of this task. When our daughter Kelli and her groom Jake got married, their church had a wedding coordinator that worked with each couple getting married in their church. She did the pinning as a part of her services. It was so nice to have someone else do this for us.
Make sure you have this wedding day need filled, MOB. This is one job you don't want to have to do when your nerves may already be jangled!
*You might also like to read Attention to Detail.
*For info about my book Mother of the Bride and also my Wedding Inspiration cards, check out my Books/My Work page.
*The new issue of Life Notes, my quarterly inspirational newsletter with a giveaway in every regularly scheduled issue, came out in early February. It's not too late to receive it. Sign-up is free and to the right! (If you're on a mobile device, scroll to the bottom of the screen and click View Full Site to find it.)
*Photo by Chris Humphrey