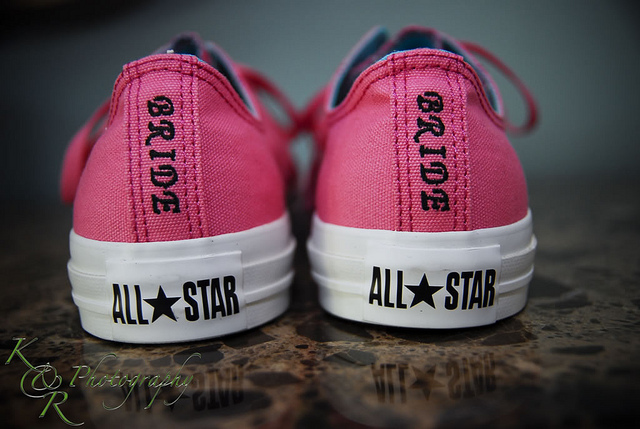 Mother of the Bride, everything the bride wears on Wedding Day will be noticed—and photographed—and that includes her shoes. Have you discussed the style she's interested in for the ceremony and formal shots? What about the reception and party? Almost without exception, a more comfortable pair of shoes than her dressy heels will be needed before the dancing is over and she dashes off to her honeymoon.
A great choice of shoes for the reception (or at least after you get past the important photos) is custom sneakers. Not only will they be comfortable and fun, but both the bride and groom can sport them together. And what a cute photo that will make, right?
How do you get sneakers customized? Check the shoe manufacturer's website to see if they offer a custom shoe service. For example, check this "Design Your Sneakers" page on the Converse website. Also this Etsy page shows all kinds of wedding Converse shoes. You could also try a Google search for custom sneakers to find other possibilities out there.
Run this (pun intended!) past the bride and groom, MOB, and see if custom sneakers strike their wedding-shoe fancy. Go ahead an encourage them to get comfortable and thoroughly enjoy their party—and don't forget comfy shoes for yourself, too!
*You might also like to read Rustic Wedding Bridal Shoes: Boots—What Else?, Bridal Shoes: The Lacy Look, Bridal Shoes: The Cute Factor, and Comfy Shoes—Add This to Your Wedding Day List.
*The next issue of Life Notes, my quarterly inspirational newsletter, comes out in early November. Sign up is free and to the right!
*Flickr photo by Villa de Amore, Creative Commons License