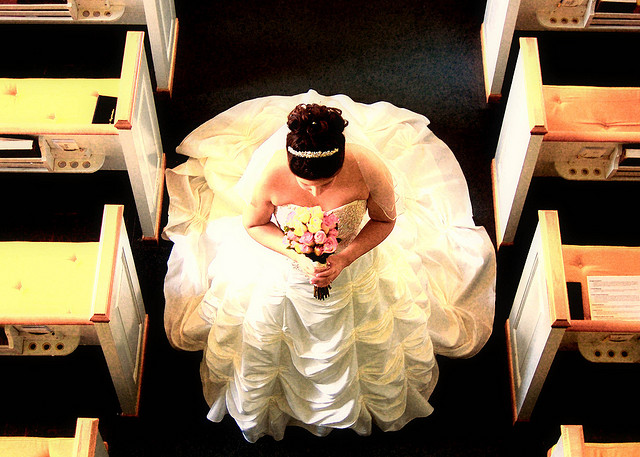 Mother of the Bride, are you looking for some great photo ideas for your daughter's bridal portrait session? The greater variety of shots the photographer takes, the better the chances are of getting the dynamite photos you're hoping for. Of course, the photographer will have lots of great ideas, but if you and your daughter can add to the list, so much the better, right?
How about trying a down the aisle shot but taken from above? If the photographer has a way to stand somewhere above the bride, this angle produces an especially striking photo of the bridal gown in all its glory.
This shot can be captured if your daughter's bridal portrait session is held at the church, but it can also be taken the day of the wedding before the guests arrive.
Similar from above shots could be taken in other locales, too. You wouldn't get the down the aisle effect, but the photographer could still capture the beauty of the gown from this angle in a number of other gorgeous venues.
Just be ready to fluff the gown, MOB—and then watch the beauty unfold!
*You might also like to read Bridal Portrait Idea: Windows Plus Great Light, Bridal Portrait Idea: Fun with Sunglasses, Bridal Portrait Idea: A Mirror Shot, and Bridal Portrait Idea: Watching for the Groom.

*The Life Notes Subscriber Appreciation Giveaway is underway. Details are in my Oct. 16 post on my home page and sign-up is to the right under "Free For You." Deadline is 6 p.m. Nov. 12. Don't miss out on the chance to win a $25 gift card to Barnes & Noble!
*Flickr photo by thelivingdead531, Creative Commons License