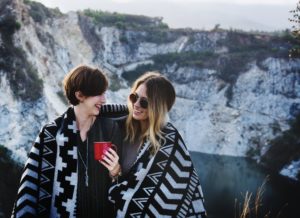 *I won't be posting next week during Thanksgiving but will be back on Nov. 27. Have a happy Thanksgiving!
Mother of the Bride, as your daughter prepares to marry, she's navigating a season like no other—as are you.
Not only are you both planning the biggest events you've probably ever planned, but you are both experiencing the shifting sands of changing family dynamics. She is shifting her primary loyalty to her husband-to-be and also developing relationships with his family while you are preparing for the final letting go as well as welcoming another family member into your family's fold.
Since like any good mother, you'll want to make her wedding planning experience and her family transition as easy as possible, here are 5 things she needs to hear from you right now. I pray that they will help both of you navigate the emotional mother-daughter waters you find yourselves in. May your season of planning and change go as smoothly as possible—and even hold unexpected blessings.
5 Things Your Bride-to-Be Daughter Needs to Hear from You
This is your wedding, not mine, and you and your groom's desires are the ones that matter the most. It's okay, MOB, to share some of your most deeply held desires concerning the wedding—after all, it will be a highlight of your life and her dad's life as well—but when it comes down to final decisions, those should reflect the couple's desires.
We welcome the love of your life into our family with open arms and will love him like a son. This will be a process of course as you may need time, MOB, to get to know him better, but just hearing your assurances of your welcoming love for him will mean the world to her.
Even though you're starting a new family, you'll always be my dearly loved daughter who can count on me in good times and bad. At this critical time of family transition, MOB, your sweet girl needs to know that you'll always love her and you'll always be there for her. And as you assure her of your unchanging love, this will give her an opportunity as well to reassure you of your place in her heart.
I'm sorry—I didn't handle that very well. There may be (will be!) times during the wedding planning process, MOB, that you will say or do something that you wish you hadn't. Tensions can run high at times and in those moments it's so easy to act or speak in haste. When you've done something that hurts feelings or offends, apologize as quickly as possible. Keeping loving and peaceful relationships is the way to go.
How can I help you? Whether with wedding details, relationship issues with any of her friends and family, or other day-to-day life stresses that can be compounded by the pressures she's feeling as wedding day approaches, your girl needs you, MOB. Find out how you can best help her with whatever she's going through. She will be forever grateful.
Good luck, MOB, as you and your precious daughter navigate the days ahead. May these pointers help along the way!
*You might also like to read Mother of the Bride's Wedding Day Advice for the Bride, Pre-Ceremony Wedding Day Prayer Idea: The Mother of the Bride Prays for the Bride, A Prayer for the Newlyweds, and A Message for the Newlyweds.
*For info about my book Mother of the Bride and also my Wedding Inspiration cards, check out my Books/My Work page.
*The new issue of Life Notes, my quarterly inspirational newsletter with a giveaway in every regularly scheduled issue, came out Nov. 1st. It's not too late to receive it. Sign-up is free and to the right! (If you're on a mobile device, scroll to the bottom of the screen and click View Full Site to find it.)
*Photo by rawpixel on Unsplash