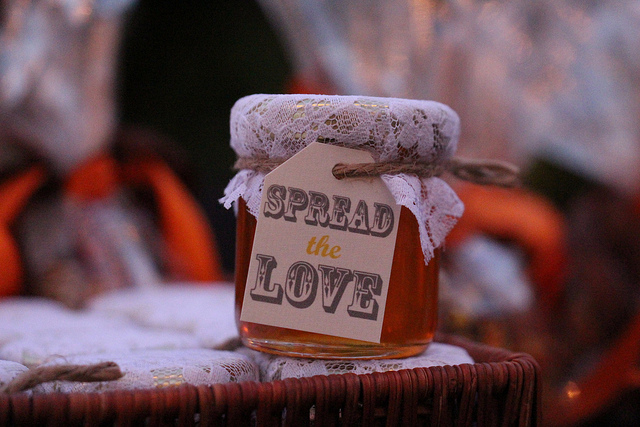 Mother of the Bride, are your darling daughter and her sweetheart planning a summer or fall wedding? If so, it's time to start gathering ideas and making decisions about some of the more minor aspects of the big day. And one of those minor issues is what to provide as wedding favors.
One super sweet idea for summer or fall wedding favors is a gift of honey. Since honey harvest usually takes place in July, August, and September, you might even be able to acquire some newly harvested honey from a local or regional beekeeper. What a treat for your guests—honey fresh from the honeycombs!
You can buy already-packaged honey wedding favors or you and the bride can get creative and come up with your own unique packaging. To buy ready-to-go honey favors, just google "buying honey wedding favors" and explore your options. Some of those options will allow you to personalize your favor. But to make your own favors from the hive up so to speak, find a local beekeeper and go from there with your own creative packaging.
Your daughter's summer or fall wedding will be here before you know it, MOB, so why not go ahead and suggest jars of honey for the favors. You never know. This sweet idea might "bee" just what she'll love!
*You might also like to read Fall Wedding Favor Idea: Caramel Apples! and A Wedding Favor That Pampers: Beigetone Soaps.
*For info about my book Mother of the Bride check out my Books/My Work page.
*The next issue of Life Notes, my quarterly inspirational newsletter with a giveaway in every regularly scheduled issue, will come out in early May. Sign-up is FREE and to the right! (If you're on a mobile device, scroll to the bottom of the screen and click View Full Site to find it.)