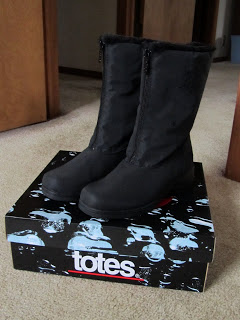 If any of you experienced a mild winter like we did this season, you have me to thank for it. That's right. I may be to blame for the lack of snow. Why? I bought new snow boots this year :)
I've wanted new ones for years. Oh, I had some I could wear in the yard or for shoveling walks, but I didn't wear them out in public. Guess I would rather end up with snow in my shoes than look extra dorky. After all, I've already got enough dorky going on :)
But now that college and wedding expenses are behind us, I decided I could splurge on myself and buy some snow boots that didn't embarrass me. I made my purchase and then waited for a big snowfall—a big snowfall that never came.
My boots have been ready, though. Out of the box and on call, waiting patiently in my closet. They must feel very neglected, not getting to make one appearance this winter. Poor things. Or should I say poor me! :)
I'll let them stand in readiness until the calendar changes to April—just in case of a late breaking storm. (It's been known to happen around here.) But after that, back in the box they'll go to give my sandals and flip flops prime closet territory. There my anxious-to-be-worn snow boots will dream of frigid winter days filled with deep drifts of snow and icy surfaces waiting to be traversed.
And as for me, I guess it's better to be prepared for deep drifts—of snow or problems in general—than to find myself trudging through the depths without the protection I need.
I'm obviously ready for the next big snowstorm, but am I ready for whatever life-storm blows into my world next? Am I ready to trudge through illness or pain, through disappointment or loss?
The best way I know to be prepared for the deep blows of life is to walk in close fellowship with my Lord day in and day out. Meeting with Him in prayer, in worship, and in His Word. Relying on Him for everything. Ready to call on Him at all times.
Beyond that, I'd also be wise to stay connected to others. To nurture and maintain relationships with my family, friends, and fellow church members. To accept and be strengthened by their support in times of need.
Are you ready for the deep drifts that await you? Do you have the protection you need? If not, I encourage you to reach out—to the Lord and to others. Make sure you're prepared for storms.
"When the storm has swept by, the wicked are gone, but the righteous stand firm forever." Proverbs 10:25