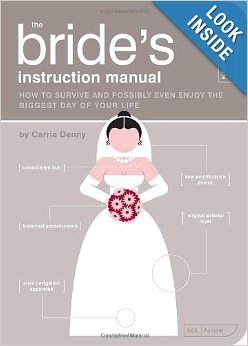 (Fyi, I won't be posting during Thanksgiving week. Everyone enjoy your time with loved ones!)
Book alert, book alert! Remember The Groom's Instruction Manual I told you about, Mother of the Bride, in my Building a Bridge to the Groom post? Good news—there is also an instruction manual for the bride!
The Bride's Instruction Manual by Carrie Denny looks every bit as cute, fun, and helpful as its counterpart for the grooms. I've only seen it online myself, but 95 reviews had been posted on Amazon  when I last checked and it averaged 4.4 out of 5 stars. Looks like a winner, doesn't it?
If my girls were still brides-to-be, I bet I'd be buying them copies of this book. Sounds like it would give them help plus make them laugh at the same time. Definitely a winning combination!
So take a look, MOB. You might decide your sweet girl needs this book!
*You might also like to read Building a Bridge to the Groom and Gift Idea: The Newlywed's Instruction Manual.
*Hope this updated post from Oct. 2013 is helpful to you today, MOB!
*The new issue of Life Notes, my quarterly inspirational newsletter with a giveaway in every regularly scheduled issue, came out last week. It's not too late to receive it. Sign-up is free and to the right! (If you're on a mobile device, scroll to the bottom of the screen and click View Full Site to find it.)
*photo from Amazon.com