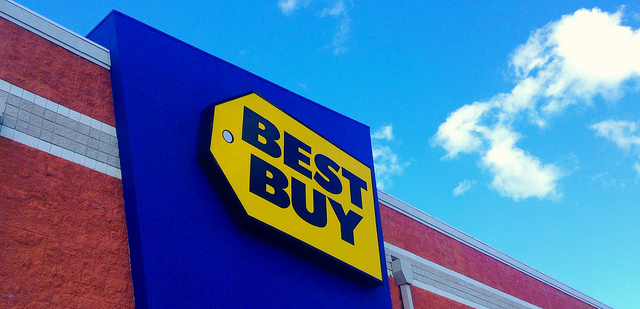 Mother of the Bride, when you and your daughter think of wedding registries, I'd be willing to be that Best Buy isn't the first thing that springs to mind, is it? It's definitely not one of the old standards where wedding registries are concerned, but it's definitely one worth considering—especially if the bride and groom would like to include some electronics, home entertainment, or computer products in the mix.
You may not be aware of the wide range of products available at Best Buy. Not only do they have all the items they're most well-known for that would fall under the electronics and technology umbrella, they also carry large and small appliances, home and personal care products, and also home office items. Check out their website for a full listing of items offered.
Best Buy has a helpful online wedding registry page, and couples can easily update their registries with a hand Best Buy mobile app. Group gifting is also available on gifts priced at $200 or more.
MOB, why not share this Best Buy wedding registry idea and info with your new Mr. & Mrs.-to-be? I think they will likely be very happy that you did!
*You might also like to read A Fair Trade Wedding Registry: Ten Thousand Villages, A Wedding Registry to Consider: Williams Sonoma!, and Wedding Registry to Consider: Pottery Barn!

*The next issue of Life Notes, my quarterly inspirational newsletter, comes out in early February. Sign-up is free and to the right!
*Flickr photo by JeepersMedia, Creative Commons License