With spring weddings now upon us, the chance of rain on Wedding Day becomes a real possibility. Mother of the Bride, if the unthinkable rain happens on your sweet girl's big day, what can you do to somehow turn it into a good memory?
One way to turn Wedding Day rain into a positive is to capitalize on some fun photo opportunities. Just like with snow during winter weddings, ask your photographer to get creative and snap some great photos featuring the rain in some way. If rain is in the forecast, contact him or her earlier in the week and share any ideas you may have. I'm sure an experienced photographer will have several ideas up his photo-snapping sleeve as well.
As in the photos above and below, why not buy umbrellas in one of the colors of the wedding and then feature the bridal couple cozied up under one while the attendants pair up under others. Keep the tags on the umbrellas until the day of the wedding just in case the rain doesn't materialize. If it doesn't rain, return the umbrellas and get your money back, MOB. If it does rain, you'll be prepared. And a good MOB is always prepared, right?
Next time you talk to your daughter, MOB, go ahead and brainstorm other ideas for some great rainy Wedding Day photos. Maybe one of the bridal couple laughing as they seek shelter under an awning or in a doorway? Or the bridal bouquet covered in raindrops?
Whatever you come up with, share your ideas with your photographer—and turn the rain into some fun Wedding Day memories!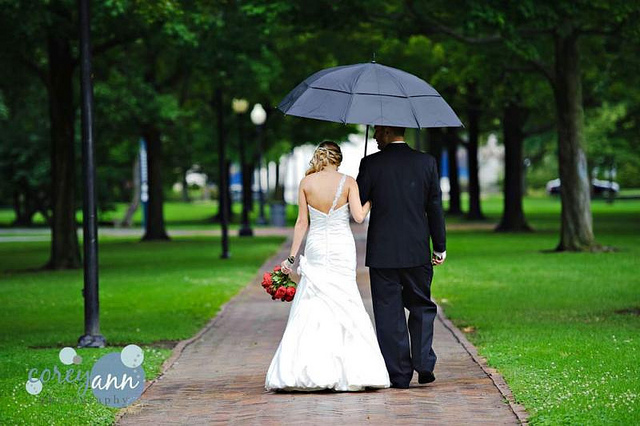 *You might also like to read Wedding Day Tip: A List for the Photographer.
*The next issue of Life Notes, my quarterly inspirational newsletter, will come out in early May. Sign-up is free and to the right!
*Flickr photos by Corey Ann, Creative Commons License