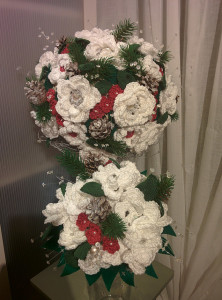 Mother of the Bride, if your daughter likes to think outside the box, the idea of a knitted bridal bouquet might spark her interest—especially if you or your daughter love to knit or you know someone who does. And if you put your knitting-loving self and friends on the job early enough, you might be able to fulfill some of the other flower needs of the wedding as well. Of course, only take this job on if you truly love knitting and find it relaxing and rewarding.
Knitted bouquets and other knitted or crocheted wedding items might not work as well for more formal weddings, but they could fit in nicely at rustic, beach, or vintage inspired weddings. If your daughter wants to use knitted flowers at her formal wedding, though, she should definitely go for it. Every wedding should be unique and personalized so she should ultimately feel free to do exactly as she pleases.
I've seen a variety of knitted or crocheted wedding items online—bouquets, shrugs and capelets, cumberbunds and bow ties, shawls and wraps, purses, napkin rings, and even little wedding outfits for pets. Lion Brand Yarns offers some free patterns for some of these items. Those of you who knit or crochet probably know of other free patterns as well. If you could post links to them in the comments, that would be great.
Check with your daughter, MOB, and if she gives the thumbs up, grab your knitting needles and get busy. The wedding will be here before you know it!
*You might also like to read Wedding Decor: Craft It with Paper, For the Gardener: Grow Your Own Wedding Flowers!, and Hand Painted Wedding Shoes for the Bride!
*The new issue of Life Notes, my quarterly inspirational newsletter, came out last week. It's not too late to receive it. Sign-up is free and to the right!
*Flickr photo by Mila Sample, Creative Commons License