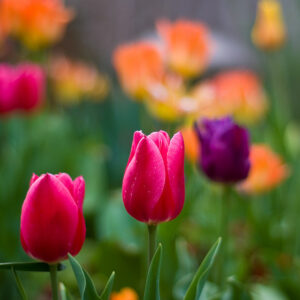 Mother of the Bride, do you or your daughter love to garden? If so you might like to grow your own flowers for her wedding. Not only would it add a unique personal touch to your celebration, but it could save money and create a great memory as well.
I know it might sound a bit far-fetched at first, but why not enjoy your passion while accomplishing a task for the wedding? Some moms and brides love to sew and fashion their own dresses for the big day. Others love to cook and provide much of their own food for the reception. If you love to garden, why not plant and nurture your own flowers and then take joy in displaying them on Wedding Day?
I admit I'm not a gardener and don't have first-hand experience with this. But I do know that people craft wedding flowers and table décor from silk flowers as well as from paper. So if they can do that, why not put your gardening skills to work for you and have some fun, too?
Maybe you feel confident in your gardening abilities but not so much when it comes to designing the arrangements or bouquets. If so, you could do the growing and find a floral designer to finish the job. You'd still be giving the wedding your personal touch.
However, don't feel pressured to undertake a growing-your-own-flowers project, MOB, if you don't really want to. I'm just throwing out ideas here and hoping they hit just the right spot for some of you. You alone know what you can handle time-wise and stress-wise.
If you're interested in giving it a shot, though, here are a few resources to help get you started (hover over the title to click on the link):
Better Homes and Gardens—Grow Your Own Wedding Flowers 
Gardenista—DIY: Secrets of Growing Your Own Wedding Flowers
 Bridal Guide–How to Grow Your Own Wedding Flowers
 *If you could grow your own flowers for the wedding, which ones would you grow?
*Flickr photo by Robert S. Donovan, Creative Commons License