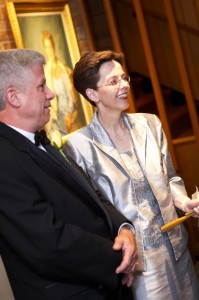 Mother of the Bride, have you started shopping for your dress for the big day yet? You've probably discovered that this particular task doesn't move to the front burner of your mind until decisions are made about colors, style of bridesmaids dresses, style of the wedding itself, and many other more pressing issues as well. As in so many other facets of life, we moms usually see to our own needs only after everyone else is taken care of.
When the time does come to find the attire that will make you shine, be sure to remember an important piece of fashion advice from Ann Taylor, a 17th century British poet and children's author. Believe it or not, her advice still rings true today. Here it is—simple and within the means of all:
"The most important thing to wear is a smile."
Isn't that good to know? Doesn't that relieve some of the pressure to find the perfect dress? Mother of the Bride, just go out there on Wedding Day and flash your beautiful, joy-filled smile. You'll make others feel at ease and happy, too!
*You might also like to read Spruce Up Your Smile.
*Since the readership of the Mother of the Bride Blog is ever-changing, I hope this encore post has been helpful to those of you who weren't MOBs when I originally posted it in July 2013.
*The next issue of Life Notes, my quarterly inspirational newsletter, will come out in early May. Sign-up is free and to the right!
*Photo by Chris Humphrey Photographer