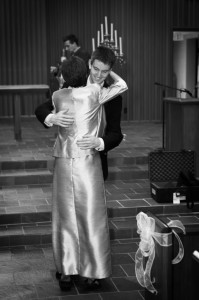 Mother of the Bride, ever have moments when you feel unappreciated for all your wedding-planning efforts? Don't worry. You're not alone. Every mother of the bride has felt that way at one time or another. After all, feeling unappreciated is a condition common in most stages of mothering. Why should we expect anything different during the wedding-planning stage?
Take heart, though. Whether they're saying it right now or not, the bride and groom will be forever thankful for everything you're doing to give them a joyful wedding day. As their dream-come-true day unfolds—or at some point following the festivities when they have time to reflect back on their day—they'll realize how much effort you expended on their behalf. And they'll be truly grateful.
Also, MOB, you will feel such gratitude and personal satisfaction yourself on the big day for the blessing of being able to give your daughter and new son-in-law a beautiful start to their lives together. Just being able to bless them in such an important way will be blessing enough for you for a very long time.
So take my word for it, MOB—you are appreciated. When the crazy days and pressures of wedding planning in the midst of the demands of regular life are behind you all, you'll find the bride and groom looking at you through eyes of love and gratitude. And that will be worth it all!
*You might also like to read "Mother of the Bride – Needed and Loved".
*Photo by Chris Humphrey