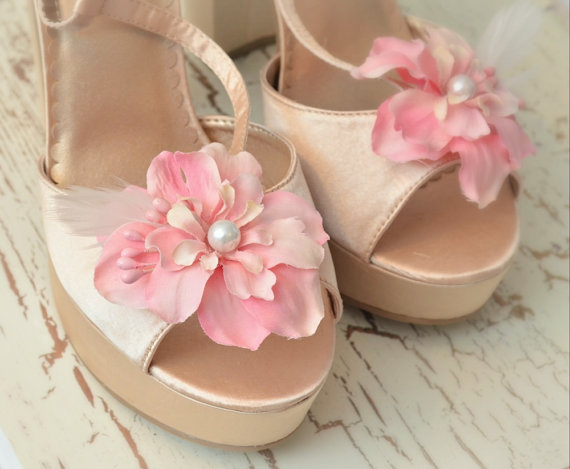 Mother of the Bride, are you or the bride or bridesmaids looking for a way to dress up classic heels (or sandals) for the big day? Shoe clips might be the answer. And a fun-to-experiment-with answer at that!
Shoe clips add such a pretty and feminine touch to almost any shoe, and the plentiful colors and styles available make them an option for just about every woman or girl in the wedding party. Want shoes to match the color of the bridesmaids' dresses? No problem. Get a classic dyeable pump and then snazz them up with a pretty clip. Does the bride want to wear comfortable heels but still wants them to look like a million bucks? No problem. The right shoe clip will increase the beauty factor ten-fold.
Another great benefit of shoe clips is that they're not a permanent fixture on the shoe. If you need your simple classic heels back after the wedding, you've got them. Just take the shoe clips off, and you've got a different pair of shoes again.
For those of you who are good with crafting, you can even make your own shoe clips. This could allow you to save a little money and be able to design just what the bride wants for herself or for her bridesmaids. And if the clips are for your shoes, MOB, you can have fun making them exactly how you want them. This is one time when everything doesn't have to be about the bride! :)
So feel free to encourage the bridal party to wear comfortable shoes for Wedding Day, MOB. Just dress them up with shoe clips and you're good to go!
*What are some cute style ideas you've seen for shoe clips?
*Flickr photo by Bellafaye Garden, Creative Commons License