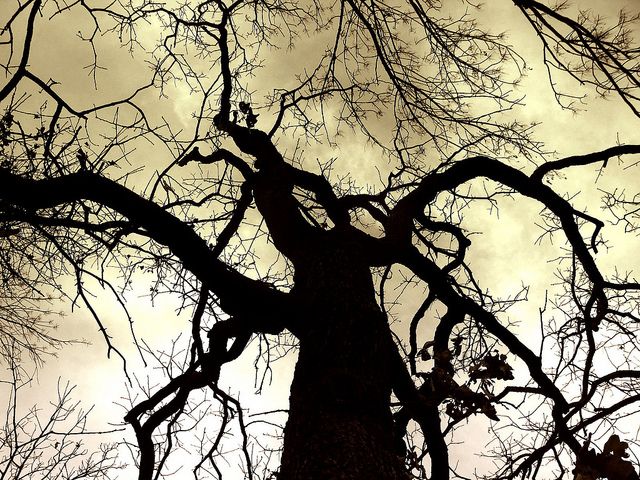 This may sound odd to some people, but I see a unique beauty in the naked trees of winter. Many would describe them as stark, drab, or depressing. I, on the other hand, think they have a beauty all their own when winter strips them of their leafy glory.
Don't get me wrong. I love the leafy glory of trees as much as the next person. Watching trees bud out and turn green in the spring holds a special excitement for all of us. Summer then brings lush, full trees to pleasantly fill our landscapes before autumn arrives and sets them ablaze with color. I delight in each of these seasons and the changes they bring to trees.
But I think trees are beautiful in winter as well. Some might think it's like looking at skeletons, but I see what looks like arms and fingers reaching for and pointing to God. I love looking out and seeing the intricacies of the branches. Winter allows us a view of the support system of the leaf laden trees we enjoy the rest of the year. Without the drab looking branches, there could be no beautiful leaves.
Winter trees actually remind me of other support systems in our lives as well. Just think about our bodies and all that's working together beneath the surface to keep us up and running. The same can be said for just about every company, group, or organization we might name.
Consider the church. Many programs and people are highly visible, but there are just as many or more serving behind the scenes. And it's the behind-the-scenes-type activity that makes it possible for the more visible ministries to take place. Everyone needs to do their part to keep things running smoothly—and more than that, to enable growth.
What role are you filling in your church—or life in general? Are you a part of the highly visible, leafy-glory, or is your role a part of the vital support system that's needed? Maybe a little of both? Just keep in mind that neither is better. Both are needed and valued.
So take another look at the winter trees. Beautiful, huh?
"Each one should use whatever gift he has received to serve others, as faithful stewards of God's grace in its various forms." 1 Peter 4:10 NIV
*What support systems in your church, workplace, or organizations are you most thankful for?
The next issue of Life Notes, my quarterly inspirational newsletter, comes out Feb. 1st. One lucky subscriber (new or current) will receive a $15 gift card to Starbucks and a signed copy of my book to use personally, give as a gift, or donate to a library. Sign-up is free and to the right! (If you're on a mobile device, scroll to the bottom of the screen and click View Full Site to find it.)
*For info about my book Mother of the Bride check out my Books/My Work page.
*Flickr photo by Oakley Originals, Creative Commons License
*I hope you enjoyed this revised encore post from January 2008!