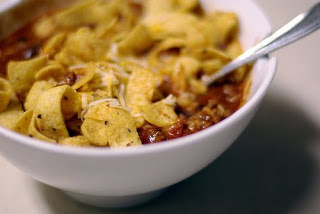 The cool-weather months of fall and winter call for comfort food, don't they? When I was growing up, nothing spelled comfort quite like walking into the house on a nippy day and being greeted by the aromas of cookies baking or a pot of chili simmering in the crock pot. And not only did it spell comfort, it spelled home.
Certain foods — and the feelings associated with them — are so dear to us that they naturally get handed down through the generations as we try to provide the same homey comfort that we experienced as kids.
I don't do recipes too often here on the blog, but I thought it would be fun (and potentially yummy!) to share recipes of some of our favorite cool weather comfort foods. If you don't have time to leave a recipe in the comments, just jump in and tell us about one of your favorite comfort foods.
I'll start it off with one of our family's favorites during the fall and winter months — homemade chili. It's super simple and very tasty. And yes, it's a recipe of my mom's. On behalf of another generation, thanks Mom :)
Crock Pot Chili

Brown 1 ½ lbs. (or more) ground beef. Drain grease and put beef in crock pot.
Add:
1 lg can tomato juice (46 oz)
½ t. garlic salt
1 t. onion salt
2 t. chili powder
1 can chili w/ beans
Cook on low all day or on high for 4 hrs. Serve with crackers or fritos and cheese – or whatever suits your fancy!
Before I let you go today, how about a little food for the soul? Remember, the Word of God spells comfort no matter the season. I recommend partaking daily, but for now, here's a taste:
"I love you, O Lord, my strength. The Lord is my rock, my fortress and my deliverer; my God is my rock, in whom I take refuge. He is my shield and the horn of my salvation, my stronghold." Psalm 18 1-2
Flickr photo by House of Sims'
*The Life Notes Subscriber Appreciation Giveaway is still underway. Details are in my Oct. 10 post and sign-up is to the right. Don't miss out on the chance to win a $25 gift card to Barnes & Noble!