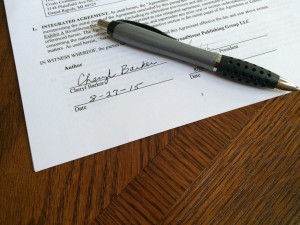 *I'll be skipping my upcoming Monday post since it will be Labor Day. See you next Thursday!
I have some exciting news, everyone! I recently signed a book contract with BroadStreet Publishing for my mother of the bride book! You may have already heard all about it if you're a subscriber to my Life Notes newsletter (sign-up is free on the right sidebar) or if you follow me on Facebook, but I wanted to be sure and announce it here as well. After all, this is news worth celebrating everywhere, right?!

I'm so very grateful God has opened this door for me. It's been a long journey but also an amazing one to see how God worked to connect me to a perfect publisher for my MOB book. All along I've envisioned a beautiful gift book that will not only refresh and encourage mothers of the bride like you but will offer them wisdom and practical help, too. Since BroadStreet's books include beautiful gift books, they are able to make that dream a reality. How I praise and thank God for blessing me with this opportunity!
The title and release date are still tentative, but I will keep you posted. I'm beyond thrilled that my book will soon be available to bless mothers of the bride. Won't it make the perfect go-to gift in the coming years for mothers of the bride you know? Won't it be fun to bless them with a gift designed especially for them?
I also want to give a huge thanks to my agent Karen Neumair of Credo Communications for believing in me and this book project. And thanks to all of you for rejoicing with me today. Dreams really can come true!
"Now to him who is able to do immeasurably more than all we ask or imagine, according to his power that is at work within us, to him be glory in the church and in Christ Jesus throughout all generations, for ever and ever! Amen." Ephesians 3:20-21
*Mother of the Bride, check the archives on the right sidebar for lots of helpful posts!
*My photo