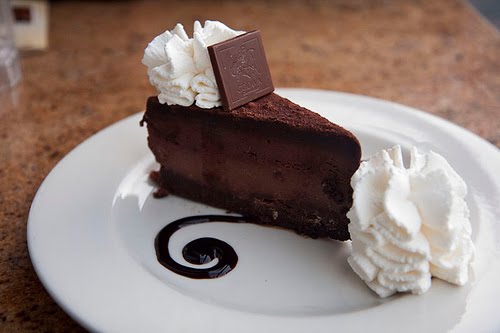 If this picture looks familiar, it's because it is. I first teased you with it a few months ago when I announced my "To Die For" Giveaway. Some of you may still be bummed that you didn't win that time, but good news — I'm giving you a second chance!
Since August is my birthday month and I thought it would be fun to offer such yumminess again, the Second Chance Giveaway is now officially underway. If you'd like a chance to win a $15 gift card to Cheesecake Factory, just leave a comment on this post by noon CST on August 16th, my birthday. Tell me when your birthday is (you don't have to include the year), and we'll see if any of us celebrate on the same day. If I don't know you personally, be sure to include your email address in your comment.
Part of my birthday fun will be drawing a name and announcing that evening who the lucky winner of the Second Chance Giveaway is. It's my pleasure to offer you all another opportunity for this particular (and possibly chocolate!) blessing :)
You know who else delights in offering second chances? In fact, He specializes in it. That's right — our heavenly Father. And He doesn't even stop with second chances. He offers His forgiveness and love again and again. His mercies are new every morning. Best of all, they are available to all, not just one lucky winner.
In need of a second chance? Call on Him. He will choose you — and you don't even have to wait till my birthday to hear the good news! Have a blessed week!
"Because of the Lord's great love we are not consumed, for his compassions never fail. They are new every morning…" Lamentations 3:22-23a
*Flickr photo by adrian8_8 , Creative Commons License