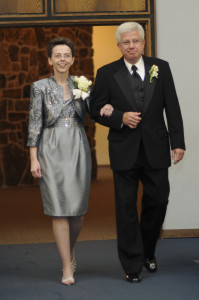 Mother of the Bride, as your bride and groom plan their ceremony, have they given any thought yet to who will seat their parents and grandparents? The Father of the Bride is an easy call—he walks the bride down the aisle and then seats himself. But who will seat the other guests of highest honor on Wedding Day?
It's always more meaningful if other family members or special friends fill that role instead of just one of the ushers who may not have a close tie to the family. With so many details for the bride and groom to think through, MOB, don't let this one get overlooked until the night of the rehearsal. Encourage them to plan for special memories by asking special people to seat the guests of honor.
Many times the Father of the Bride and the Father of the Groom are selected to usher in and seat their respective wives. My husband did just that (see photo above) during both our daughters' weddings. He just had to hot-foot it back down the aisle so he'd be ready for his most important role—escorting his little-girls-turned-brides to their waiting grooms.
A variety of others can serve—an usher or groomsman who is a family member or family friend, the ring bearer if he's old enough, or another close family member (a son, a grandson, a nephew, etc. of the particular guest of honor). Just think about who would be especially meaningful for each particular guest of honor and then ask him to serve.
So remind the bride and groom to plan ahead, MOB—and precious memories to you all!
*You might also like to read Wedding Photo Idea: Moms Light Unity Candle Together.
*Photo by Flowers Photography