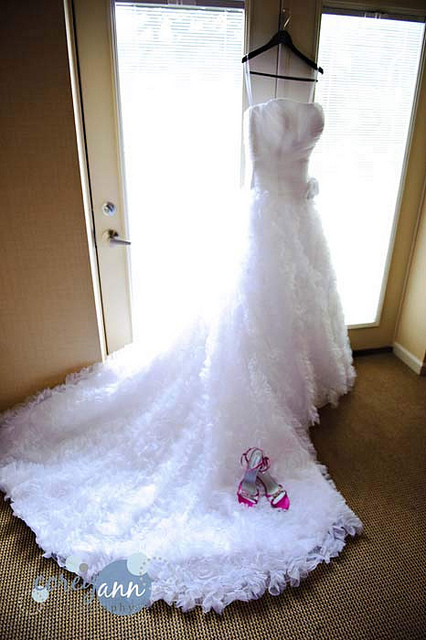 Mother of the Bride, is your little bride-to-be one of those brides who wants to make a splash on her wedding day with colorful shoes? If she has made a bold color choice to adorn her tootsies on her big day, here's a great photo idea to help show them off before she ever puts them on.
Have the photographer document her splash of color in a before-the-wedding shot that will show off not only the shoes but the gown as well. Most photographers take a shot of the dress before the bride dresses on wedding day so just arrange the train in a similar fashion to the photo above. Place her snazzy shoes on the bed of white elegance created by her gown, and there you have it. A perfect photo to highlight one of the fun choices she's made for her day to remember.
Why not mention this idea to the photographer, MOB? Won't it be fun to surprise your darling girl with a special shot of her big-day shoes like this? Go on now. Have some fun!
*You might also like to read Wedding Shoes Trend: Color Is In!, Hand Painted Wedding Shoes for the Bride!, Cute Idea for the Bride—Shoes to Match the Bouquet, and Custom Sneakers for the Bride (and Groom!).
*Flickr photo by Corey Ann, Creative Commons License