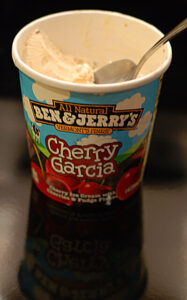 Maybe just another bite. That's what I often think as I'm standing at my kitchen counter eating ice cream straight out of the carton. I usually limit myself to three bites (or one if I'm trying to drop a pound or two), but sometimes it tastes so darn good, I've gotta go in for just a little more. Just another bite to satisfy that craving.
Lately I've found myself feeling the same way as I close my Bible after some time in the Word each morning. As I start to put it away, I feel compelled to open it again for just another taste. I'm hungry for more. I need just another bite to satisfy my craving for God's life-giving words.
Maybe it's because right now I'm hopping around more than I usually do in my Bible reading as I look up verses for a Bible study I'm doing. Maybe I'm more of a read-an-entire-book-of-the-Bible kind of gal (in small portions, of course), letting an entire passage soak into my mind and spirit.
Whatever the reason, I'm following the impulse to read a little more. I turn to the Psalms and fill my spirit there, keeping a bookmark where I'm reading so I'll know where to return the next time.
I'm so glad I don't have to limit myself to three bites of the Word like I do with my ice cream indulgences. In fact, the more I indulge in the Word, the better. And you know what? When I'm hungry for more, God always serves up a heaping portion of satisfaction. And I must say, it tastes awfully good!
"How sweet are your words to my taste, sweeter than honey to my mouth!" Psalm 119:103
*What part of the Bible have you been reading lately?
*If you're hungry for more of the Word, check out Nancy Douglas's site. She is offering free podcasts of her Bible study Draw Me Nearer. I've read Nancy's blog long enough to know that her study will surely hold blessings for all.