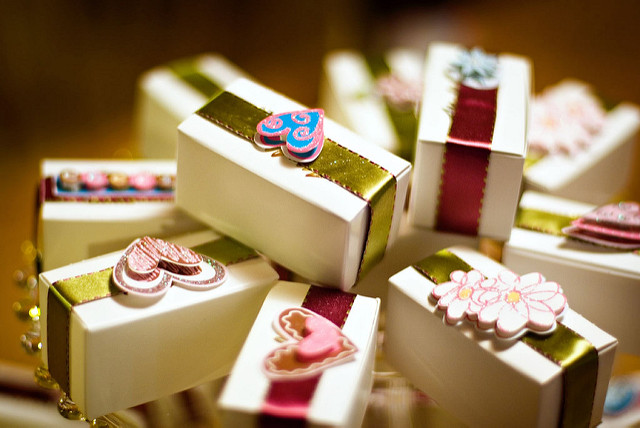 Mother of the Bride, you and your sweet girl may have more important things on your minds right now than wedding favors, but the topic will come up before you know it.

Why not be prepared and jot down favor ideas as you see them. Or if you haven't done so yet, you could create a wedding board on Pinterest and save your ideas that way. I have one especially for Wedding Favors so you might want to pop over and take a look while it's on your mind.
One fun idea is offering the guests a boxed surprise. Guests will enjoy discovering the treasure in their individual little gift boxes, and you could even add an additional element of surprise by having multiple possibilities. One guest might find dark chocolates filled with chocolate while another finds milk chocolates filled with raspberry cream, etc. Or you daughter might like to go with something entirely different from chocolate. It's her party. She gets to choose!

I also love the little boxes pictured above with the various color ribbons and styles of applique rather than bows, but other sizes, shapes, and décor for boxes are available where you find wedding supplies. Again, the bride will have fun making this choice.
What do you think, MOB? Is this an idea your daughter might like? You'll never know unless you ask—so ask away!
*You might also like to read A Wedding Favor That Pampers: Beigetone Soaps!, Fall Wedding Favor Idea: Caramel Apples!, Wedding Favors That Grow: Tree Seedlings!, and Edible Favors—Yes, Please!
*The latest issue of Life Notes, my quarterly inspirational newsletter, came out last week. It's not too late to receive it. Sign-up is free and to the right!
*Flickr photo by Corey Ann, Creative Commons License