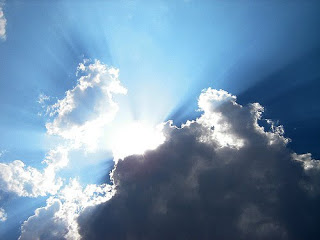 Someone's Mother's Day is about to get a little sweeter! Time to announce the winner of the Extra Sweet Giveaway. The $15 gift card to Godiva goes to Teri! Congratulations, Teri ! Heavenly times ahead, huh?
As for the rest of you, try not to feel too left out. After all, we who've given our hearts to Jesus have heavenly times ahead, too — and I'm not talking chocolate. I'm talking eternal life in heaven with Him.
Just look at these promises from the Word of God:

"For the wages of sin is death, but the gift of God is eternal life in Christ Jesus our Lord." Romans 6:23

Jesus said, "'In my Father's house are many rooms; if it were not so, I would have told you. I am going there to prepare a place for you. I will come back and take you to be with me that you also may be where I am.'" John 14:2-3

And finally, recorded in the Word of God is what was revealed to the Apostle John:
"I saw the Holy City, the new Jerusalem, coming down out of heaven from God, prepared as a bride beautifully dressed for her husband. And I heard a loud voice from the throne saying, 'Now the dwelling of God is with men, and he will live with them. They will be his people, and God himself will be with them and be their God. He will wipe every tear from their eyes. There will be no more death or mourning or crying or pain, for the old order of things has passed away.' He who was seated on the throne said, 'I am making everything new!' Then he said, 'Write this down, for these words are trustworthy and true.'"
Ah, the hope and promise of heaven… You can't get much sweeter than that!
*Flickr photo by Jeff Belmonte
*It's not too late to get the current issue of Life Notes, my quarterly inspirational newsletter. Sign-up is free and to the right!