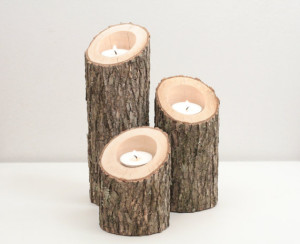 Nothing says rustic wedding like tree branch candle holders, Mother of the Bride. Whether using them as the key element of your daughter's centerpieces or as décor on other tables, mantelpieces, or windowsills, they add the perfect outdoorsy touch to a rustic themed wedding.
Try a trio of tree branch candle holders for the central portion of a centerpiece or cluster a few different sizes together in other places needing a touch of décor. You might even take a linear approach in certain spots and arrange them from tallest to shortest. Fill out your arrangements with fresh-from-the-forest greenery and flowers or other accents in the color of the wedding, and voila—a rustic wonderland!
It's hard to beat nature and candlelight, isn't it, MOB? If your happy couple wants to go rustic, give tree branch candle holders a try!
*For more ideas for table décor—rustic and more—check out my Wedding Table Décor/Centerpieces Pinterest board. For other centerpiece ideas, you might also like to read Centerpiece Idea: Flower Ring and Candle and Centerpiece Idea: Mirror Magic.

*Flickr photo by Wicker Paradise, Creative Commons License
*Would you like to subscribe to my blog so you won't miss any posts? Find the email sign-up and RSS button to the right!