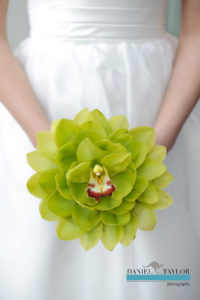 Mother of the Bride, has your daughter discovered yet how many options are out there for her bridal bouquet? If so, she may actually be a little overwhelmed with the prospect of making a choice. Sometimes having to make one more choice is what pushes a stretched-to-thin bride-to-be from bridal bliss into full-blown bridal panic.
If your daughter would appreciate the ease of a less complicated bridal bouquet decision, try suggesting a single bloom bouquet. Of course, the single bloom will need to be a large bloom to give the illusion of a bouquet rather than just one flower.
Here are some large bloom options: She could go with a dahlia (like pictured above), but other large bloom flowers include peonies, magnolias, alliums, hydrangea, proteas, and sunflowers. Have her take a look at this Single Flower Bouquet page on Pinterest to see if one strikes her bridal fancy.
And by the way, MOB, one other advantage to a single bloom bouquet is a less expensive price. The groom and/or his parents will thank you for that. Looks like it could be a win-win for everyone!
*You might also like to read Bridal Bouquet: Classic and Elegant Calla Lilies , White or Cream Bridal Bouquet: Add a Touch of Color, Bridal Bouquet and Boutonniere Sheet Music Idea, and Inexpensive Bridal Bouquet Idea: Baby's Breath!

Photo credit: Flower Factor via Visual Hunt / CC BY-NC