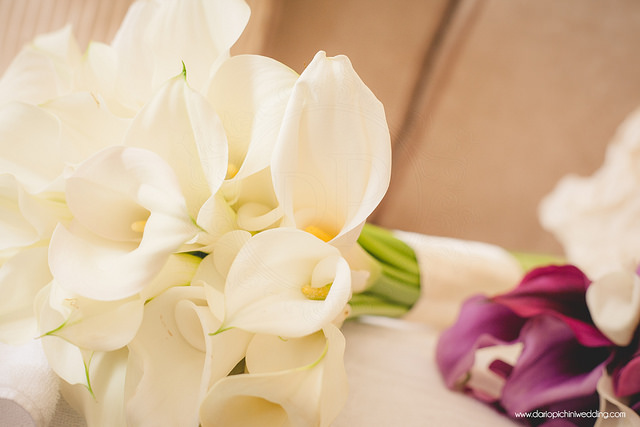 Mother of the Bride, has your darling daughter given any thought to her bridal bouquet yet? With so many beautiful options out there, she may be having trouble deciding on which type of bouquet will be perfect for her dream-come-true day. You can't make the choice for her, but you can certainly help by suggesting a few for her to consider.
Roses, of course, are beautifully classic, but another ever-classic and elegant option is a bouquet done completely in white Calla Lilies. These gorgeous sleek flowers will beautifully complement any bridal gown, especially with the little pop of color the center of each flower will add. According to About.com, white Calla Lilies are widely available year-round, too, making this an easy option for all.
What do you think, MOB? Will this gorgeous option strike a dream-come-true chord with your daughter? If so, that's one more decision taken care of. Have fun checking it off your list!
*You might also like to read Bridal Bouquet and Boutonniere Sheet Music Idea, Inexpensive Bridal Bouquet Idea: Baby's Breath, Wedding Idea That Sparkles: A Brooch Bouquet, and Knitted Bridal Bouquet and More.
*The new issue of Life Notes, my inspirational quarterly newsletter, came out earlier this week. It's not too late to receive it. Sign-up is free and to the right!
*Flickr photo by Dario Pichini Photographer, Creative Commons License