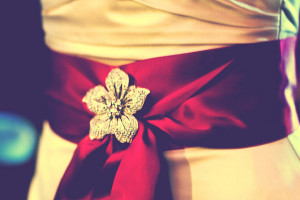 Mother of the Bride, here is a gorgeous way to accent a sash worn on Wedding Day—a dazzling brooch! The sash itself, of course, is a beautiful accent, but by adding a brooch, the wow factor is taken up to a whole new level.
A sparkling brooch accent will work well for anyone in the bridal party whose attire includes a sash. Whether it's the bride, the bridesmaids, or even you, MOB, a beautiful brooch will add a special touch that can perfectly complete the wearer's ensemble for the day.
A brooch will also provide a keepsake memento from this most special of occasions. It can easily be used with other outfits over the years and be a sweet reminder of a wonderful celebration with people you love. Definitely a win-win when it comes to accessories!
If your daughter has chosen gowns—hers or her maids—with sashes, be sure to show her this idea, MOB. And you might even want to shop for a dress with a sash now for yourself, right?!
*You might also like to read Wedding Cake Idea: Beautiful Brooch Accents! and Wedding Idea That Sparkles: A Brooch Bouquet!
*The next issue of Life Notes, my quarterly inspirational newsletter, comes out in early February. Sign-up is free and to the right!
*Flickr photo by Sweet Carolina Photography, Creative Commons License