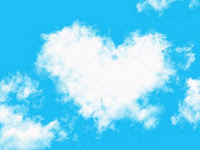 Is everyone having a good Valentine's Day? Sure hope so. Valentine's Day here on the blog means it's time to announce the winner of the "Cuddle Up" Valentine's Day Giveaway. Since the prize is a Starbucks gift card, someone is about to get a lot warmer :) That lucky someone is you, Stephanie! (Momma's Soapbox ) Congratulations! I'll get the gift card to you asap. Hope you enjoy!
On Valentine's Day we usually think of romantic love or love of friends and family, but today let's spend a moment thinking of a love that surpasses all of these, a love that never fails — the love of God. I hope you are reminded of how deeply He loves you as you read a few quotes about His love that have captured my attention. Happy Valentine's Day from the Greatest Lover of All!
"I can fathom a God who knows me, who made me…who hears me. But a God who is in love with me? A God who is crazy about me?… That's the message of the Bible." Max Lucado, bestselling author and minister
"God's version of flowers and chocolates and candlelight dinners comes in the form of sunsets and falling stars, moonlight on lakes and cricket symphonies; warm wind, swaying trees, lush gardens, and fierce devotion." John and Stasi Eldredge, bestselling co-authors
"If you are seeking after God, you may be sure of this: God is seeking you much more. He is the Lover, and you are His beloved. He has promised Himself to you." John of the Cross, Catholic reformer, 1542-1591
"We are of such value to God that He came to live among us…and to guide us home. He will go to any length to seek us… We can only respond by loving God for His love." Catherine of Sienna, Catholic tertiary, theologian, and philosopher, 1347-1380
"'For God so loved the world that he gave his one and only Son, that whoever believes in him shall not perish but have eternal life.'" John 3:16
Flickr photo by Zack Akukumba
**It's not too late to receive the current issue of Life Notes, my quarterly inspirational newsletter. Sign up to the right. It's free!