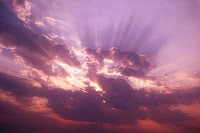 Life continues to stay more hectic than usual for me, but I wanted to pop in long enough to brag on God a little. He has been so good to encourage me with little things while Don's mom has been hospitalized.
I can't tell you how many times over the past few weeks God has provided great parking spots for me wherever I go (that's huge when you're tired and pressed for time). Or how my path has just happened to cross that of someone I need to talk to. Add to that the almost daily ways He has sent a timely word my way through something I read or hear. A special message just for me to minister to my spirit and strengthen me to carry on.
Just this past Sunday, I woke up feeling weary before I ever got out bed, overwhelmed with what the next few days would likely hold. Most mornings throughout our ordeal, I've felt a measure of fresh strength for the new day, but not this day. We had been told Mom would have to leave the hospital soon. The prospect of arranging care for her and moving her things while still trying to spend time at the hospital and maintain other aspects of life at the same time snuffed out my wobbly legged energy and joyful spirit.
But God didn't leave me feeling depleted. On rising, I went into the bathroom and, like always, turned the page on my perpetual calendar to read the message for the day. These words from Christian author and pastor Charles Swindoll awaited me: "Since you will need fresh energy and new insight to handle what tomorrow throws at you, wait until it dawns before taking it on."
From the mouth of God to my weary spirit, huh? In a few short seconds, God reminded me not to burden myself with what had not yet happened and to trust Him to provide the strength needed for each day. My spirit lifted, and I moved on with a lighter heart because of His tender touch.
Yes, my God is worthy of all the bragging I can do, of all the praise that I can give. What has God done for you lately? Go ahead — brag on God!
"It is my pleasure to tell you about the miraculous signs and wonders that the Most High God has preformed for me." Daniel 4:2
*Update: Don's mom had a couple of really good days, but today was not so good. Still on the roller coaster — and still waiting to see how continued care for her is going to work out. As always, thanks for your prayers!
Flickr photo by pixle, Creative Commons License