*While my husband is on vacation this month, I'll be taking a blogging break. Hope this post provides you with lots of help, Mother of the Bride. You can also use the blog's search feature as well as the drop down feature in the Archives to find posts you're interested in. Will be back on August 7th. See you then!
Mother of the Bride, when I take a look at analytics for my blog visitors, I can tell which posts have proven to be most popular—which ones are clicked on most often as a result of Google searches or of blog links I've posted on social media. Very interesting to see what MOBs, brides, and others involved in the wedding planning process are seeking information on.
And what better time than a blogging break to share a round-up of some of the posts clicked on the most over the past few weeks, right? I invite you to drop in from time to time this month and spend a few minutes checking out the popular Mother of the Bride Blog posts listed below. Fingers crossed that some of them meet you at your current point of need. Blessings to you as you plan and prepare!
Introducing the Mother of the Bride Blog! 
Where to Find Your Mother of the Bride Dress
A Prayer for the Bridesmaids' Luncheon 
Wisdom and Encouragement for the Mother of the Bride 
Savings Tip for Bridal and Bridemaids Bouquets
Wedding Thoughts from Anne Lamott's Plan B
Mothers of the Bride Need Prayer 
Groom's Cake Idea: Law Books (or any other books!) 
Wedding Resource: Prayers for the Mother of the Bride
Gift Idea: Prayers for the Mother of the Groom
*You might also like to read Bridal Bouquet Roundup, Wedding Cake Roundup, Wedding Registry Roundup, and Wedding Photo Ideas Roundup That Star the Groom.
*For info about my book Mother of the Bride and also my Wedding Inspiration cards, check out my Books/My Work page.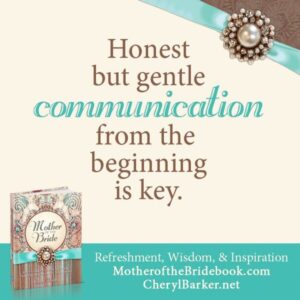 *The next issue of Life Notes, my quarterly inspirational newsletter, will come out August 1st. One lucky subscriber will receive a $15 gift card to Barnes & Noble and a signed copy of my book to use personally, give as a gift, or donate to a library. Sign-up is free and to the right! (If you're on a mobile device, scroll to the bottom of the screen and click View Full Site to find it.) 
*Photo by Will Flowers