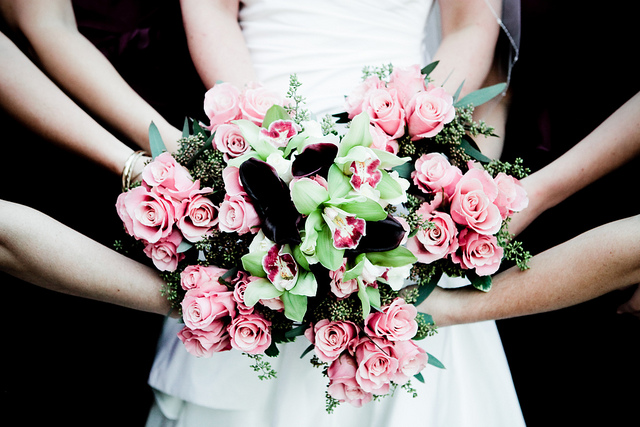 Today's wedding day photo idea is a real winner—super simple to set up but provides a colorful and gorgeous reminder of the day. Easy plus amazing. You can't beat that, can you, Mother of the Bride?
I call this dynamite photo idea bouquets in a bunch. Simply have the bride hold her star-of-the-day bridal bouquet waist-high and then ask the bridesmaids to hold their bouquets all around hers. The effect is stunning as the bridesmaids' bouquets encircle the bridal bouquet, showing off in glorious fashion not only the colors of the wedding, but the bride's choice in flowers as well.
What a perfect shot of a beautiful part of the day! Why not suggest this wedding day photo idea to your daughter, MOB? Then jot it down on the list of photos you'd like the photographer to take on her big day. You'll be glad you did!
*You might also like to read Cute Idea for the Bride: Shoes to Match the Bouquet.
*Flickr photo by theinvinciblemom, Creative Commons License