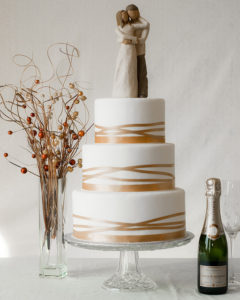 Mother of the Bride, have wedding cakes taken center stage in your wedding planning conversations with your daughter yet? When they do, not only will you be talking design, flavors, colors, frosting types, and cake stands, you'll also be batting around ideas for cake toppers. 
One simple and elegant cake topper option is to use a Willow Tree couple figurine. A Willow Tree couple topper will add beauty, romance, and the promise of commitment not only to the cake but to the festivities in general. It will also become a lasting memento and precious possession for the newlyweds.
Willow Tree actually offers three figurines that are designed specifically as cake toppers. If your bride and groom are interested, they will be able to choose from the Promise Cake Topper, the Together Cake Topper, and the Around You Cake Topper. Each one holds such meaning and beauty.
MOB, why not share this post with your daughter and her beloved and see if it captures their hearts. You could even buy the cake topper of their choice and give it to them as one of their shower or wedding gifts. A win-win for everyone!
*You might also like to read Wedding-Themed Shower Gifts, Wedding Cake Topper Idea: The Tiffany Blue Box, and Wedding Cake Topper Idea: Entwined Hearts.
*For info about my book Mother of the Bride and also my Wedding Inspiration cards, check out my Books/My Work page.
*The new issue of Life Notes, my quarterly inspirational newsletter with a giveaway in every regularly scheduled issue, came out earlier this month. It's not too late to receive it. Sign-up is free and to the right! (If you're on a mobile device, scroll to the bottom of the screen and click View Full Site to find it.)